Texas research for Ebola treatment moves forward – BioBridge Global takes part by drawing and testing blood of survivor
BioBridge Global takes part by drawing and testing blood of survivor
AUSTIN – A team from BioBridge Global's South Texas Blood & Tissue Center successfully drew a unit of blood Thursday, Feb. 26, from Dr. Akinniyi Emmanuel Fadipe, a Nigerian doctor who survived the Ebola virus. He was drawn at research firm XBiotech in Austin, which will use it to continue their search for a treatment for those afflicted with the devastating virus.
Dr. Fadipe was part of the team that treated the first case of Ebola in Nigeria. He and three colleagues from First Consultants Medical Centre in Lagos contracted the virus and survived; four of their coworkers died. His blood initially was screened at BioBridge Global in San Antonio on Feb. 24 to make sure he qualified for the research.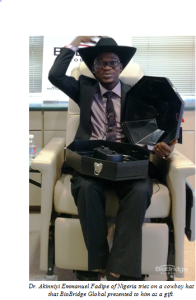 The research involves taking whole blood from Ebola survivors to identify the antibody for the virus and eventually reproduce it. This method could result in the ability to manufacture a therapeutic on a large scale to help treat those affected by the disease.
"I am more than excited to help fight Ebola," Dr. Fadipe said. "The research is going to be a very wonderful thing. Ebola is still very much around in African countries, though Nigeria is free of it. People are still fighting it. I want to contribute to fighting Ebola by helping XBiotech get drugs to Africa."
Dr. Fadipe and his team in Lagos established protocols that were called instrumental in sparing Nigeria from a large-scale Ebola outbreak. In September of last year, the World Health Organization said the nation, which is the most populous in Africa, was free of Ebola.
He said other survivors are ready to jump into the research if they are called upon.
"If more blood is needed for research, I've contacted other friends and colleagues who have survived. The antibodies may be different for each survivor, so I want to help do more to study different survivors. I can propose help with that," he said.
He said that on a personal note, he had a great impression of the United States and Texas on his first trip here. During his time in San Antonio, a team from BioBridge Global treated him to dinner and gave him a cowboy hat as a gift.
"I always had a big imagination about the United States, and it lived up to my expectations. Coming here, I'm very impressed," Dr. Fadipe said. "San Antonio was a nice place to be. I went to a restaurant, and I tried the Tex-Mex. I would like to try more types of American dishes."
This is the second time in as many months that BioBridge Global has participated in a project supporting Ebola research. In January, an STBTC team traveled to longtime partner XBiotech to draw the blood of Dallas nurse and Ebola survivor Amber Vinson. Her blood also came back to San Antonio to be tested by QualTex Laboratories.
About BioBridge Global: BioBridge Global (BBG) is a San Antonio, Texas-based nonprofit organization that offers diverse services in regenerative medicine through its subsidiaries. Its subsidiaries – the South Texas Blood & Tissue Center, QualTex Laboratories and GenCure – provide products and services in blood banking, cellular therapy, umbilical cord blood and donated human tissue as well as testing of blood, plasma and tissue products for clients in the United States and worldwide. BBG is rooted in the South Texas Blood & Tissue Center, which has a proud history of serving the South Texas region and beyond for more than 40 years. BBG is committed to supporting groundbreaking research, addressing unmet clinical needs and enabling the development and commercialization of novel biotechnology products. Visit us at biobridgeglobal.org.