BCA provides thousands of units of biological materials from its member blood and tissue centers to clients each year. These products are either: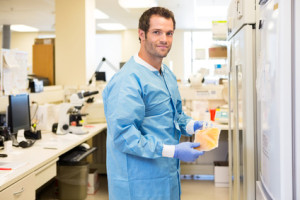 part of our planned inventory
surplus of what is needed at any given time by the healthcare sector
collected specifically for a client per their specifications.
BCA also provides consulting services to clients needing assistance with respect to the acquisition of biological materials and/or their distribution and associated logistics.
BCA Clients include:
| | | |
| --- | --- | --- |
| Hospitals | Clinical Labs | Pharmaceutical Companies |
| BioTech Companies | Cell Therapy Companies | Device Companies |
| Diagnostic Companies | Life Science Research Organizations | Universities |
Available BCA member products include:
Blood and Blood Components.  Blood components such as red blood cells, plasma, platelets, and cryoprecipitate are life-saving products inventoried by our BCA blood centers. Inventoried or in stock blood and blood products are collected and processed per typical specifications and volumes as described in the Circular of Information. Custom products can be collected and/or manufactured to meet client needs, specifications, protocols, and compliance requirements.
Tissues.  BCA brokers the acquisition and provision of tissues provided by members to Clients.       Tissue Center members offer a complete line of Allograft bone, sports tissue and dermal tissue
Cells.  Most BCA members have the infrastructure, experience, and expertise to provide a wide variety of cell fractions selected from blood or tissue they handle ranging from the simple to complex, involving a wide range of protocols and devices. Cell counts or other characterizations can often be performed on-site to ensure quality control per client specifications.
About BCA Members:
Blood Centers of America members are full service blood and transfusion service providers to their hospital customers and are an important part of the communities they serve.  Several BCA members are also cord blood banks and/or tissue centers.  All BCA Blood Centers hold required FDA and state licenses, many hold various voluntary accreditations by AABB, FACT, and AATB.  Several members comply with relevant EU and ISO standards.  BCA works to match research and commercial customers up with the blood center(s) that can best meet their needs.
BCA members are uniquely qualified to provide products collected using strict cGMP and cGTP practices.  BCA members have the experience, knowledge and facilities needed for compliant collection of blood, tissue and cell based materials for life saving therapies.
The BCA Advantage:
Single point of contact point for entire network
National footprint provides geographic coverage for patient collections
Centralized negotiation, on-boarding and management of agreement
Accessible, knowledgeable and responsive staff
For more information about BCA's capabilities please contact Gena Swisher.